Title: Protein Substitute Requirements of Patients with Phenylketonuria on BH4 Treatment: A Systematic Review and Meta-Analysis
| | |
| --- | --- |
| Authors: | Fatma Ilgaz, Cyril Marsaux, Alex Pinto, Rani Singh, Carmen Rohde, Erdem Karabulut, Hülya Gökmen-Özel, Mirjam Kuhn, Anita MacDonald |
| Published: | March 23, 2021 |
| Journal: | Nutrients |

Protein Substitute Requirements of Patients with Phenylketonuria on BH4 Treatment: A Systematic Review and Meta-Analysis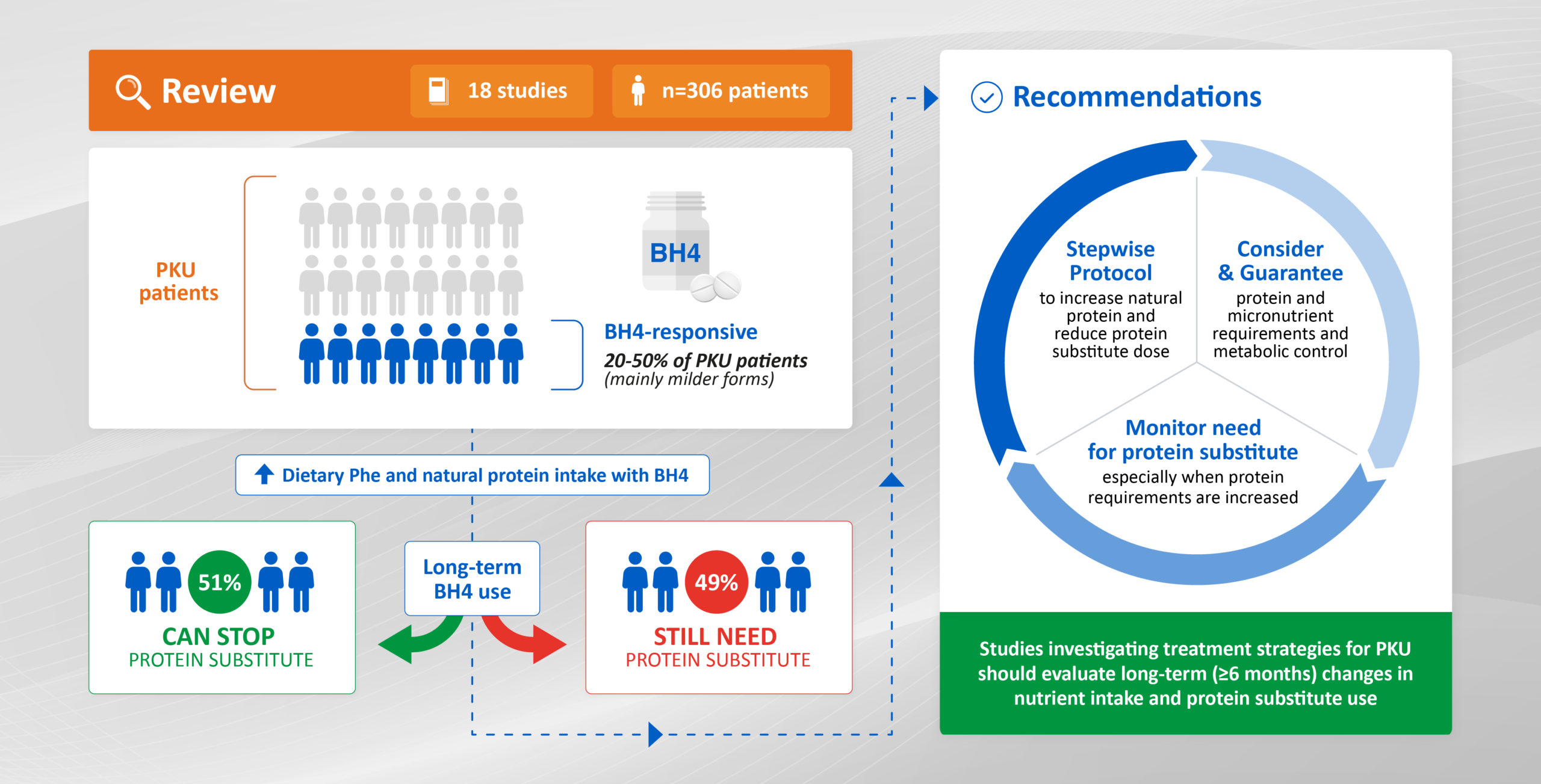 Dietary protocol needed for PKU patients on BH4 treatment
For certain patients with phenylketonuria (PKU), pharmaceutical treatment with synthetic tetrahydrobiopterin (BH4) allows them to relax their phenylalanine (Phe)-restricted diet. However, dietary protocols are lacking to guide the adjustments of their protein substitute prescription. This systematic review and meta-analysis therefore investigates protein substitute requirements with long-term BH4 therapy.
The systematic review shows that even when BH4 therapy works, almost half of this subset of PKU patients still needs a protein substitute to meet their protein requirements and achieve good metabolic control.
This demonstrates that criteria need to be defined for continued protein substitute administration with BH4. The medical professionals who authored this manuscript discuss the important clinical implications of their findings.
Based on this work, clear recommendations are made to guide healthcare professionals when adjusting dietary prescriptions of PKU patients on BH4.
Conclusions
The authors conclude that:
– To ensure protein and micronutrient requirements are met and sustained, it is important to follow a stepwise approach; increasing natural protein intake while gradually reducing the dose of protein substitute.
– With BH4 treatment normal growth is maintained, but micronutrient deficiency associated with a decreased intake of protein substitute is a potential risk.
– In any situations where protein requirements are increased (e.g., rapid growth, illness, or pregnancy), increase in prescription or re-introduction of protein substitute should be evaluated.
– Any future studies investigating treatment strategies for PKU should evaluate and report long-term (at least 6 months) changes in nutrient intake, in particular natural protein intake, use and dosage of protein substitute, and micronutrient intake.

Please read the full publication here.