December 10, 2020
We're very proud that Agathe Foussat was nominated for the Digital Leader of the Year Award at the 2020 Women in IT Awards Asia.
Women in IT Awards recognise outstanding female tech talent in the industry, as well as the employers that are implementing diversity initiatives and breaking boundaries to spearhead real change in the sector. High-achievers, advocates and role models across 15 categories, including Digital Leader of the Year, were nominated for awards.
For the Digital Leader of the Year Award judges looked at examples of innovation, leadership, digital best practice, return on investment, cultural change and alignment to business goals.
Congratulations to all the winners!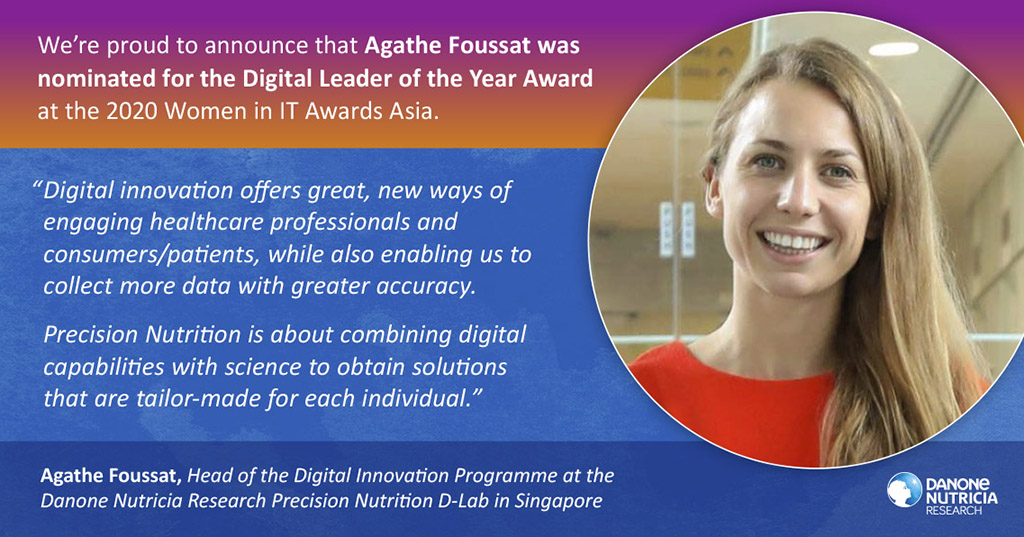 Agathe is the head of the Digital Innovation Programme at the Danone Nutricia Research Precision Nutrition D-Lab in Singapore. Together with her team she is responsible for the development of new and innovative digital innovations.
One concrete example of such an innovation is the MyUniqueMoments app, a mobile application for parents to track important data (such as key health parameters related to feeding, diaper, sleeping, crying and growth) of their child's growth journey.
This app was nominated for a Personalised Nutrition Initiative Award at the 2020 Nutra Ingredients Awards.
Find out more about the Precision Nutrition D-Lab here : https://www.nutriciaresearch.com/about/who-we-are/our-global-presence/nutricia-research-singapore/