The first 1000 days of life lay the foundation for our lifelong health. Receiving optimal nutrition during this period positively impacts the development of the GI tract, as well as the establishment of a balanced gut microbiota.1Wopereis H, et al. Pediatr Allergy Immuno. Published on 2014;25:428-38 An imbalance in gut microbiota during early life may lead to common GI discomforts.2Wopereis H, et al. Pediatr Allergy Immuno. Published on 2014;25:428-38
The gut microbiota is a complex community of around 100 trillion bacteria that has many health-promoting functions.
Read more on Gut and Microbiology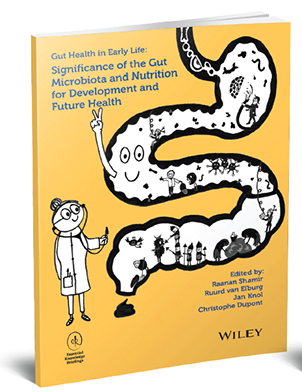 'Gut Health in Early Life: Significance of the Gut Microbiota and Nutrition for Development and Future Health' provides an overview of early gut development, the role of gut microbiota and how it influences short and long-term health.
Gastrointestinal (GI) function in early life
The first weeks and months of life are a period of remarkable growth and development, and our digestive tract has to take over from the placenta immediately after birth. Also, infants have a much smaller stomach and shorter bowel than adults.3Worthington-Roberts B, et al. In: McGraw-Hill Higher Education USA . Published on 2000 ed 4 ,4Lebenthal E, In: Human gastrointestinal development. Lebenthal E. Raven Press . Published on 1989 New York, 3-18  All these factors have an impact on the way an infant's digestive system functions, including its ability to digest, absorb and utilise nutrients.
It can take a while for infant's digestive system to start functioning at full capacity. For example, many young infants produce smaller amount of important enzymes such as pepsin and acids that aid digestion of protein.5Vandenplas Y, et al. Essential Knowledge Briefing. Wiley, Chichester. Published on (2015) Lactose malabsorption (which leads to lactose entering the colon and cause flatulence and cramps) and colonic bacterial fermentation conditions may also cause digestive discomfort in infancy.6Moore DJ, et al. J Pediatr. Published on 1988;113:979-84
During infancy, functional gastrointestinal disorders (FGIDs) and related symptoms are frequent and have been suggested to be linked to the immaturity of the gut physiology and functionality.
Read more on Functional gastrointestinal disorders (FGIDs) in early life
A recent study discovered a profound relation between the appearance of infantile colic and the development of the gut microbiota in early life.7de Weerth C, et al. Gut Microbes . Published on 2013;4:416-21
View References

| | |
| --- | --- |
| 1, 2 | Wopereis H, et al. Pediatr Allergy Immuno. Published on 2014;25:428-38 |
| 3 | Worthington-Roberts B, et al. In: McGraw-Hill Higher Education USA . Published on 2000 ed 4 |
| 4 | Lebenthal E, In: Human gastrointestinal development. Lebenthal E. Raven Press . Published on 1989 New York, 3-18 |
| 5 | Vandenplas Y, et al. Essential Knowledge Briefing. Wiley, Chichester. Published on (2015) |
| 6 | Moore DJ, et al. J Pediatr. Published on 1988;113:979-84 |
| 7 | de Weerth C, et al. Gut Microbes . Published on 2013;4:416-21 |