Title: Safety and tolerance of a novel anti-regurgitation formula
| | |
| --- | --- |
| Authors: | M. Bellaiche et al |
| Published: | 2021 |
| Journal: | Journal of Pediatric Gastroenterology and Nutrition |
The first 1000 days of life lay the foundation for our lifelong health. Receiving optimal nutrition during this period positively impacts the development of the gastrointestinal (GI) tract, as well as the establishment of a balanced gut microbiota.1 An imbalance in gut microbiota during early life may lead to common GI discomforts.1

Regurgitation, infantile colic and functional constipation are common functional gastrointestinal disorders (FGIDs) during infancy.
FGIDs and their symptoms are often extremely distressing for the infant and parents, leading to infant discomfort and crying, and parental anxiety.
Approximately 30% of infants suffer from regurgitation2 and about 3 in 4 infants with regurgitation also experience other gastrointestinal (GI) symptoms3 .
A previous study4 has shown that a combination of prebiotics (scGOS/lcFOS (9:1) and postbiotics can positively impact gut microbiota and improve stool consistency and colic. Adding prebiotics and postbiotics to thickened anti-regurgitation (AR) formula could help to address regurgitation, as well as other associated GI symptoms.
This new study 'Safety and tolerance of a novel anti-regurgitation formula: a double-blind, randomised, controlled trial', published in JPGN, assessed the tolerance and safety of an anti-regurgitation formula with Locust Bean Gum (LBG) as thickener, postbiotics and prebiotics.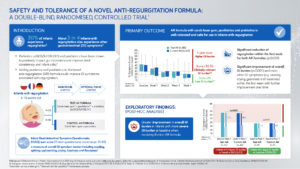 The test formula contained LBG, postbiotics (derived from the LactofidusTM process) as well as prebiotics (scGOS/lcFOS; 9:1).
The control formula contained LBG and postbiotics (derived from the LactofidusTM process) and has a proven record of being safe to use.
The Infant Gastrointestinal Symptom Questionnaire (IGSQ) was used to measure the overall GI burden.
The primary outcome of the study shows that the test AR formula with LBG, postbiotics and prebiotics is well-tolerated and safe to use in infants with regurgitation.
In addition there a significant reduction of regurgitation within the first week for both AR formulas as well as a significant improvement of overall GI burden and most GI symptoms (e.g. stooling, crying, gassiness and fussiness) within the first week, with further improvement over time.
A post-hoc analysis showed that there is a greater improvement in overall GI burden in infants with more severe GI symptoms when receiving the test AR formula with LBG, postbiotics and prebiotics.
Read the full publication here. Safety and Tolerance of a Novel Anti-Regurgitation Formula:… : Journal of Pediatric Gastroenterology and Nutrition (lww.com)
Please find more information about our research into gastrointestinal health here.
Wopereis H, et al. Pediatr Allergy Immuno 2014;25:428-38.
Vandenplas et al. Acta Paediatrica 2016;105(3):244-242
Bellaiche et al. Acta Paediatrica 2018;107:1276-8
Rodriguez-Herrera et al., Nutrients. 2019 Jul 5;11(7):1530