August 29, 2018
"Growing evidence indicates that the vulnerability to chronic noncommunicable diseases (NCDs) is largely set during the first 1,000 days".
This was said by Prof. Dr. Eline van der Beek, Research Director Early Life Development at Danone Nutricia Research, in a paper in Sight and Life. This edition of Sight and Life focuses on innovations in foods and supplements to address the different burdens of malnutrition. In the paper, Eline highlights Danone Nutricia's Research-driven effort to help address the global challenges of overweight, obesity and NCDs and improve nutrition during the first 1,000 days.
Growth during the first 1,000 days is faster than during any other period in life, including puberty. Between birth and 3 years of age, body size doubles and body weight increases fivefold. Consequently, relative nutritional requirements are high, but the actual nutrient needs as well as the dietary supply change considerably. Failure to provide the right nutrients may result in permanent alterations in organ size and functionality that cannot be changed thereafter.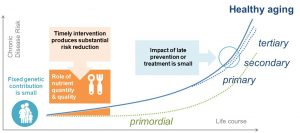 Nutritional interventions during the first 1,000 days of life provide a window for "primordial disease prevention" – preventing disease in later life by reducing developmental risk factors.
Interested to learn more about the role of protein and fat quantity and quality in this perspective?
"Quality differences in dietary fat may be meaningful especially when organs are still growing and maturing".
Read the full article in the latest issue of Sight and life magazine. In this issue you can find contributions from authors from the public, private, social, and academic sectors.
About Sight and Life
Sight and Life is a humanitarian nutrition think tank delivering innovative solutions to eliminate all forms of malnutrition in children and women of childbearing age and improve the lives of the world's most vulnerable population. Sight and Life provides a range of educational materials on malnutrition issues. They provide books, brochures, and documentaries to support the information needs of health workers, scientists, representatives of governmental/non-governmental agencies, and the media.