Disease related malnutrition (DRM) is characterised by inadequate intake of, for example, energy, protein, and/or micronutrients as a result of a diverse number of diseases or their treatment.
Disease related malnutrition has far-reaching consequences ranging from increased morbidity and mortality to reduced ability to self-care and fight infection1. Getting the right nutritional care in a timely manner can help reduce medical complications, support recovery and independence, and lower healthcare resource use2.
Dietary management of DRM via medical nutrition can improve nutritional deficiencies in a safe way. At Danone Nutricia Research our goal is to help patients of all ages address nutritional insufficiencies arising from a disease, allergy, disorder or condition when they are unable to meet their requirements via normal foods. Medical nutrition products, whether taken orally or via an enteral (tube-feeding) route, are used under medical supervision and, depending on the situation, may be required for short or long term, or even for life. They can be administered in diverse healthcare settings or at home.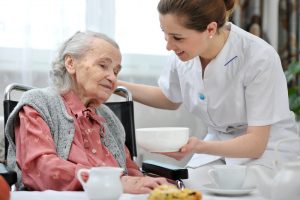 Medical nutrition offers proven nutritional benefits. It increases total energy intake without decreasing food intake and leads to weight gain and prevention of weight loss in patients who are malnourished or 'at-risk' of malnutrition in hospital and in community settings.1–5
It also offers proven functional benefits such as improvements in activity, quality of life and independence measures, particularly in older malnourished patients in the community.6–12
Oral Nutritional Supplements (ONS) are an effective and non-invasive option to tackle DRM in patients who are typically able to consume some normal food, but not enough to meet all their nutritional needs. ONS can be an effective dietary management approach for DRM in a large number of diseases – including cancer, stroke, neurological and gastrointestinal conditions, and surgery
Examples where enteral nutrition may be appropriate include severe cystic fibrosis, cerebral palsy, after a stroke or major surgery such as head and neck surgery, and critical illness.
1.
Stratton R, et al. Wallingford: CABI Publishing, 2003.
2.
Freijer, K., et al., The economic value of enteral medical nutrition in the management of disease-related malnutrition: a systematic review. J Am Med Dir Assoc, 2014. 15(1): p. 17-29.
4.
Milne, A.C., et al., Protein and energy supplementation in elderly people at risk from malnutrition. Cochrane Database Syst Rev, 2009(2): p. CD003288.
5.
Cawood, A.L., M. Elia, and R.J. Stratton, Systematic review and meta-analysis of the effects of high protein oral nutritional supplements. Ageing Res Rev, 2012. 11(2): p. 278-96.
6.
McMurdo, M.E., et al., Should oral nutritional supplementation be given to undernourished older people upon hospital discharge? A controlled trial. J Am Geriatr Soc, 2009. 57(12): p. 2239-45.
7.
Norman, K., et al., Prognostic impact of disease-related malnutrition. Clin Nutr, 2008. 27(1): p. 5-15.
8.
Rabadi, M.H., et al., Intensive nutritional supplements can improve outcomes in stroke rehabilitation. Neurology, 2008. 71(23): p. 1856-61.
9.
Gariballa, S., et al., A randomized, double-blind, placebo-controlled trial of nutritional supplementation during acute illness. Am J Med, 2006. 119(8): p. 693-9.
10.
Persson, M., et al., Nutritional supplementation and dietary advice in geriatric patients at risk of malnutrition. Clin Nutr, 2007. 26(2): p. 216-24.
11.
Parsons, E., Nutritional care and the Malnutrition Universal Screening Tool (MUST). British Journal of Community Nursing, 2001. 16: p. S16-S21.
12.
Stange, K.C., Refocusing knowledge generation, application, and education: raising our gaze to promote health across boundaries. Am J Prev Med, 2011. 41(4 Suppl 3): p. S164-9.