Title: Early feeding practices and weight-related outcomes in childhood
| | |
| --- | --- |
| Authors: | Outi Sirkka |
| Published: | 2021 |
| Journal: | PhD |
On the 27th of October 2021 Outi Sirkka, Senior Scientist at Danone Nutricia Research, successfully defended her PhD thesis 'Early feeding practices and weight-related outcomes in childhood: associations in different ethnic groups in the Netherlands' at the Vrije Universiteit Amsterdam.
Early life, from conception through to our second birthday, is a period of growth and development more rapid and significant than at any other stage of our lives. Since all of our organs and tissues are being formed and educated during this time, it offers a unique window of opportunity to shape our lifelong health.
Nutrition plays a crucial role during this phase of life.
The main aim of Outi's PhD thesis was to investi­gate the role of milk and complementary feeding­ practices in development of early BMI and childhood overwei­ght.
The secondary aim was to understand the role of infant feeding­ among­‑different ethnic populations.
The overall conclusion of the PhD shows that infant and toddler feeding­ practices are associated with childhood overwei­ght risk. The impact of infant feeding­ on overwei­ght seems to be population-specific and may warrant tailored intervention strateg­ies.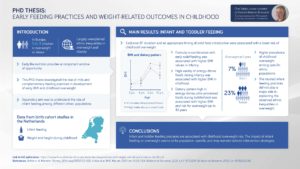 Congratulations Outi!
Learn more about early life nutrition here: A journey through the first 1000 days | Danone Nutricia Research