June 26, 2018
Precision Nutrition D-Lab of Nutricia Research is proud to host the very first PhUSE single-day event in Singapore.
In this digital era, innovative advancements in the application of data science are a transformational power in various industries including healthcare. Automation, machine learning and artificial intelligence with big data are being deployed for greater insights and solutions, with benefits to healthcare cost, quality and accessibility.
The explosion of medical devices combined with state-of-the-art data collection, data management and analytical technologies is accelerating the delivery of new therapies and products to consumers and patients.
Personalised medical solutions and precision nutrition is moving ever closer to reality.
To gather like-minded individuals who share the same passion of digital transformation and to have open discussion, Danone Nutricia Research will host the PhUSE single day event in Singapore on 25th July (https://www.phuse.eu/singapore-sde-2018).
Themed "Digitalisation: Transformative Advancements in Healthcare", the event aims to share and learn more about the latest trends and advancements related to the applications of digital solutions in healthcare,
to exchange ideas how the innovative advancements in data science and medical devices can be a transformational power for personalised medical solutions and precision nutrition.
This will be the first PhUSE single-day event in Singapore.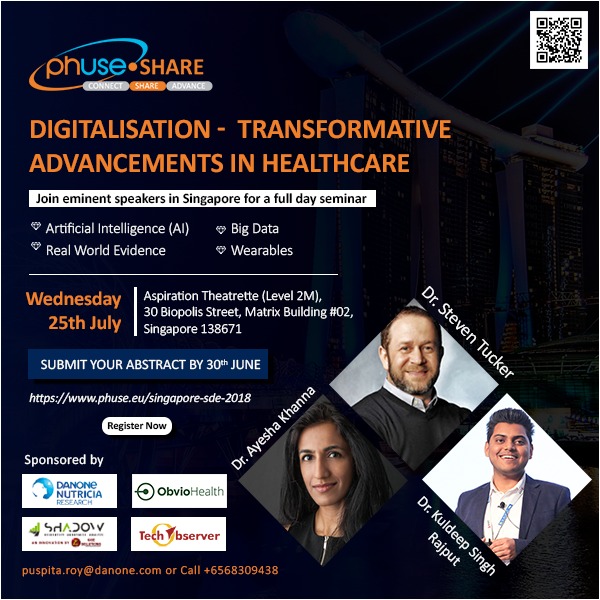 View the full program here.
About PhUSE?
PhUSE is a global community of professionals, passionate about the advancement of clinical information, providing the industry with the premier platform for creating and sharing ideas, tools and standards around data and statistical & reporting technologies. It is a non-profit membership society run by volunteers. Please visit PhUSE website (http://www.PHUSE.eu/) to know more about PhUSE.