Issues related to diet and nutrition are becoming the number one global health challenge that we face today.
• 795 people globally suffer from malnutrition
• 650 million people globally suffer from obesity
• 592 million people globally have diabetes
Danone mission: to bring health through food to as many people as possible.
Danone Nutricia Research is part of Groupe Danone and hence our mission is to bring health through food to as many people as possible. In support of this ambition, we aim to create nutritional solutions for a range of vulnerable groups, such as pregnant women, infants, children, and patients suffering from certain chronic diseases. Our research and development initiatives are guided by our six nutrition commitments.
The six Danone Nutrition commitments
What we choose to eat and drink can affect the world in which we live. This is the idea that sits at the very heart of the Danone Alimentation Revolution. Danone, together with our consumers, retailers, farmers, suppliers and NGOs, is committed to designing, producing, marketing and consuming food in a new way – a way that brings health to people and health to our planet.
Danone strongly believes in a food and water ecosystem that works in harmony with the environment. Danone want to make the Alimentation Revolution a reality for as many people as possible, all across the world because of the strong belief in a food and water ecosystem that works in harmony with people, communities and the environment.
In 2020, 90% of Danone's sales were from healthy categories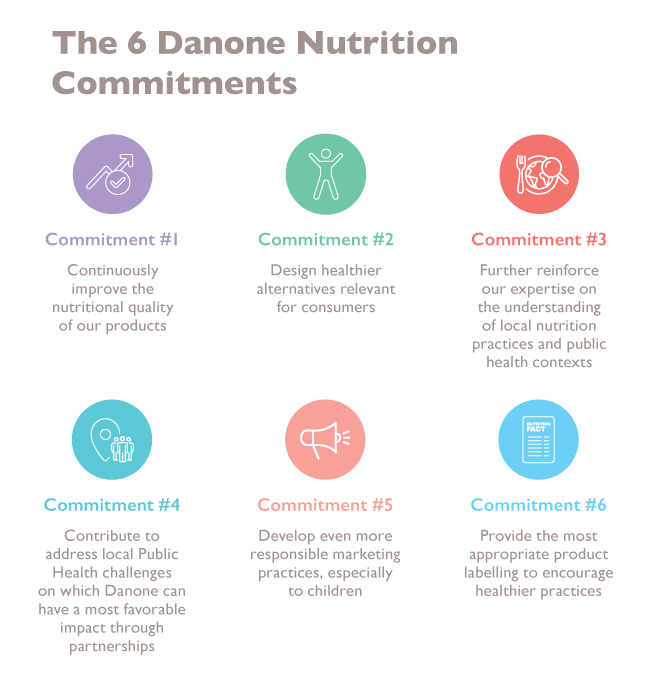 In 2005, Danone launched the first 'Food, Nutrition and Health Charter'. Reviewed and updated annually, the document lists the six key commitments that will enable us to achieve our vision:
1. To continuously improve the nutritional quality of our products
We have set nutritional targets for each of our products, based on official nutrient intake recommendations (e.g. WHO, EFSA, US, IOM) and on the latest scientific evidence, both external and in-house. We aim to meet these targets by 2020.
2. To design healthier alternatives relevant to consumers
We will design products that offer consumers healthier choices. We will achieve this through a combination of superior product experience and superior nutritional quality, compared with common alternatives.
3. To further reinforce our expertise on the understanding of local nutritional practice and public health contexts
We will further our understanding of local eating and drinking patterns, practices and beliefs in order to have a greater influence when promoting healthier lifestyles.
4. To contribute to addressing local public health challenges where we can have a most favorable impact through partnerships
We have almost 150 education programmes in place, many developed in collaboration with academic and governmental partners. These healthy lifestyle initiatives reach over 500million people.
5. To develop even more responsible marketing practices, especially to children
Across all countries in which we operate, we have a strong business conduct policy. This includes support of the EU pledge for responsible marketing to children, as well as the WHO International Code of Marketing of Breast Milk Substitutes.
6. To provide the most appropriate product labeling to encourage healthier practices
All of our product labels are designed to guide healthier nutritional choices; we will continue to develop a policy for transparency in labeling of nutritional values.
The work we carry out at Danone Nutricia Research is of central importance in bringing these commitments to life. We work hard each day to ensure the products we research and develop help meet Danone's mission to bring health through food to as many people as possible.
Learn more about the Danone Nutrition Commitments & Achievements here.